| | | |
| --- | --- | --- |
| | VEHICLE OFF-LINE GPS and FUEL MONITORING | |
"Off-Line" GPS and Fuel Monitoring

monitoring after vehicle is driven;
monitor: fuel, vehicle, driver;
intelligent logging;
data downloaded to standard USB Flash Drive;
data downloaded in any convenient place.

VEHICLE
"Off-Line" FUEL & GPS MONITORING
monitoring after vehicle is driven;
monitor: vehicle location and tracking, fuel consumption, fueling and draining, driver activity;
intelligent data logging;
data downloaded to standard USB Flash Drive;
easy download data in any convenient place;
driver identification;
not need any additional components for downloading data to PC;
not needed vehicle parking while data moving to PC;
In general System consist of next main components:
vehicle multifunction GPS and fuel data logger (multi tank support functionality)

GuardMagic mTF3 (mTF4) consist of: GPS receiver and memory microcontroller board.

This device based on GPS signal calculate vehicle coordinate and parameters vehicle of movement.

GuardMagic mTF3 (mTF4) module

completely automatically carry out record the information in to internal memory of the track (date, time, geographical coordinate), parameters of movement (speed), information from

fuel level sensors, information from additional external sensors etc.

After vehicle had return to base you only have to remove data from module to PC by standard USB flash drive.

GuardMagic DLLS1; Robust digital fuel level sensor with communication interface EIA-485

Make measurement fuel level in fuel tank and send fuel level code to main module (GuardMagic mTF3, mTF4).

Monitoring PC with SmartTracer monitoring software (Monitoring Station)

SmartTracer monitoring software:

- r

eceive from USB flash drive information and store received information in data base.

- analysis received information,

- generate the series of special reports and diagrams,

- visualization of tracks and points on electronics maps,

- visualization fueling and draining points in electronic maps,

- etc.
mTF3 (mTF4) module connection in vehicle: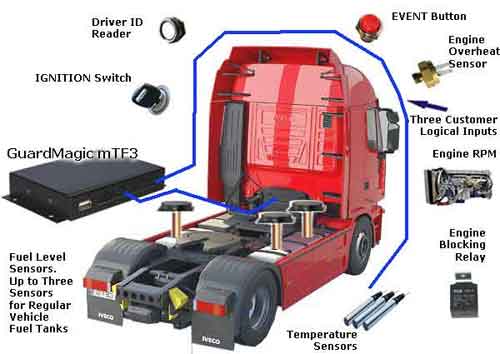 mTF3 (mTF4) module functionality in brief:
installation on any type of transport (truck, lorry, car, tanker; combine, tractor, bulldozer, building machinery etc.);
protection against data losing;
fuel monitoring (fuel history) up to 6 fuel tanks;
digital communication interface with fuel level sensors;
"fuel resolution" 1024 levels;
GPS monitoring (location, speed);
connection to additional circuits, sensors and monitoring additional sensors;

driver identification function;
vehicle protection function (not using vehicle without correct driver identification);
active driver history;
two operation mode: vehicle, special machinery,
temperature monitoring;
120 000 records;
power supply 12 /24 volts;
connection to GuardMagic DLLS1 fuel level sensor or GuardMagic DAFS sensor adapter;
possibility to connect to reserve battery.