FUEL TANK WIRELESS MONITORING

real time remote fuel tank monitoring;
"real time" monitor fuel level (fuel volume) in fuel tanks;
monitor: fuel level (volume) in fuel tank;
fuel history of each fuel tank;
fueling and draining monitoring;
| | |
| --- | --- |
| DIESEL FUEL TANK, PETROL TANK ETC. | |

DIESEL FUEL TANKS, PETROL FUEL TANKS, OIL TANK, FUEL OIL TANK MONITORING
NB:
- solution for tanks with different type of carbon fuels and oils.
1. Key Features:
1.1 In general:
1.2 Monitoring:
fuel level (fuel volume) in fuel tanks;
fueling and draining.
1.3 Benefits:
multi tanks monitoring;

sensor serial connection;

sensor can be located up to hundreds meters from main unit;

digital communication interface with fuel level sensor;

sensors high resolution (1924 or 4096 levels)
2

.

Monitoring Structure

: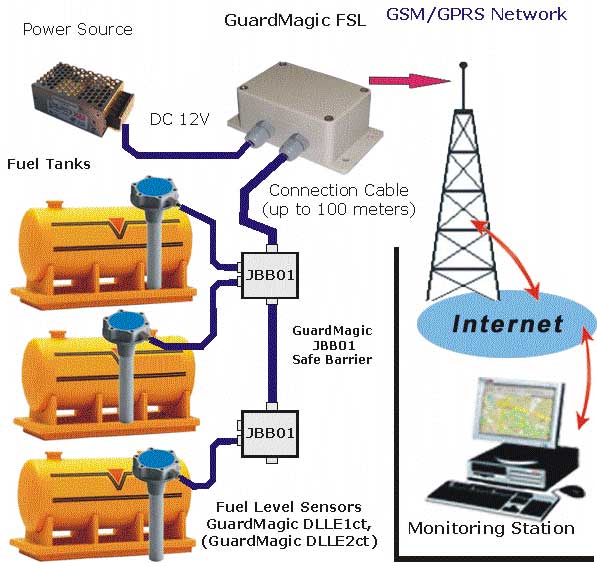 2.1 Main Components:
Fuel Storage Monitoring Module

GuardMagic FSL module (GuardMagic FSM2 module) in full automatic mode collect information from Fuel Level Sensors (up to THREE sensors) and send this information by GSM/GPRS network to monitoring station.

GuardMagic DLLE1, DLLE2 fuel level sensor

In fuel tank installed GuardMagic DLLE1 or GuardMagic DLLE2 fuel level sensors.

GuardMagic DLLE sensor detects the level of the fuel in the fuel tank, processing data and sends the information about current fuel level in the form of digital code (EIA-485 communication interface) to monitoring module (GuardMagic FSL or GuardMagic FSM)

GuardMagic JBB01 is a safety barrier for connection fuel level sensors located in hazardous area (Zone 0).

GuardMagic JBB01 can support up to two fuel
level sensors GuardMagic DLLE series.
GuardMagic JBB01 has to be located outside hazardous area.

For connection fuel level sensor to main module (GuardMagic FSL or FSM).

Cable length can be up to some hundreds meters.

Power source for powering main module and fuel level sensors

Communication network (GSM/GPRS + Internet)

Communication channel for the sending information from vehicle module to Personal Computer.

Monitoring station:
- collect all information from modules, store this information in data base,
- analysis received information,
- generate the series of special reports and diagrams;
- monitor fuel consumption, fueling and fuel drain.

Monitoring Station (monitoring service) consist of server (or personal computer) and special monitoring software: VehicleStation or FleetStation office PC based monitoring software

or

PowerTrace WEB monitoring service.
2.2 GuardMagic FSL (FSM) module advantages

:
monitoring fuel level in fuel tanks;
multi tanks supports functionality;
2.3 GuardMagic DLLE1, DLLE2 advantages:
multi tanks supports functionality;
robust construction;
standard and heavy application;
high resolution (1024 or 4096 levels);
isolated power and data line;
operation in wide temperature range;
digital communication interface (EIA-485);
high noise immunity;

internal data filtering (data processing);
sensor serial connection;
self testing;
strong mounting;
oil, fuel, water, UF resistance cable;
IP 65 ingress protection;
power supply: 9 ... 40V;
customer sensor cutting.

Sensors length:

DLLE1: from 300mm and up to 3000mm
DLLE2: from 3000mm and up to 6000mm