UNIVERSAL MONITORING PLATFORM FOR DIFFERENT TYPE OF OBJECTS

( All-In-One Monitoring )
1) Introduction
"All-In-One Monitoring",-
Unified universal monitoring platform. Monitor all type of of objects:
Mobile objects (cars, trucks, buses, road fuel tankers, refrigerator trucks, mining and construction machinery, diesel electric locomotives, towboats and other type of vehicles);
Stationary objects (fuel storage tanks, generators, refrigerators, fueling stations, electric transformers etc.)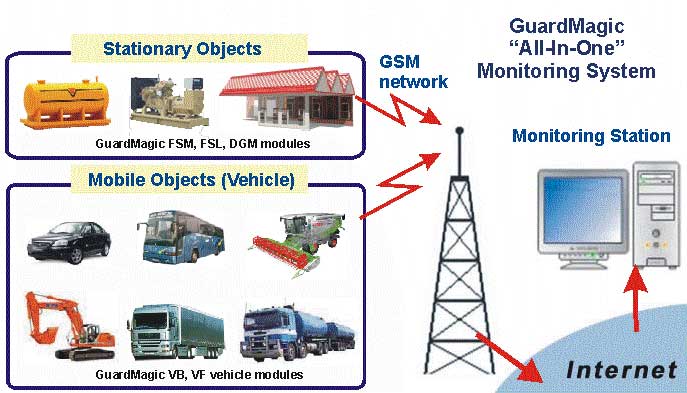 All-In-One Monitoring system allows to have (monitor) different type of objects in one system.
2) Monitored objects
2.1 Mobiles objects (vehicle):
passenger cars, SUV;

LCV, pickups, light trucks;

VAN, micro bus;

truck;

passenger buses;

construction, road construction and special machineries;

mining machineries (tippers, dozers, excavators etc.);

forest machineries;

road fuel tankers;

refrigerator trucks;

agricultural machineries (tractors, combines etc.);

diesel locomotives;

railroad cars and railroad cisterns;

towboats;

etc.
Vehicle modules: Guardmagic VB, GuardMagic VF, GuardMagic VTS series
2.2 Stationary objects:
over ground horizontal fuel storage tanks;

under ground fuel storage tanks;

vertical fuel storage tanks;

fueling station;

diesel generators;

power transformer;

electrical power distribution station;

refrigerators;

etc.
Modules: GuardMagic FSM, GuardMagic FSL, GuardMagic DGM series.
3) Monitoring by application
Monitoring can be:
office PC based;

WEB monitoring service.
3.1 Office PC based monitoring
in your office server (PC) you install monitoring software VehicleStation or FleetStation series.
All data stored in your office server.
More details about monitoring software
3.2 WEB monitoring service
Your login from any computer by internet to your account in special monitoring site.
You need not to have any special server or PC in your office.
All data stored in monitoring data center.
More details about monitoring service