VEHICLE MONITORING, FUEL MONITORING, DRIVER MONITORING

real time remote vehicle monitoring: tracking, location, parameters of movement;
real time fuel monitoring;
monitoring additional sensor;
active driver monitoring;
trip (route)

visualization

;
data transmitting by GSM/GPRS network;

1. Key Features:
1.1 In general
all world coverage;

all type of vehicle monitoring;

vehicle regular fuel tank monitoring;
multi tanks monitoring;

wireless data transmitting by GSM/GPRS network;

outside GSM/GPRS coverage module store in internal memory all information about vehicle activity;
driver identification;
trailer identification.
easy fuel level sensor connection.
1.2 Monitoring:
vehicle real location;

parameters of vehicle movement: date/time, speed, acceleration/deceleration;

vehicle trip (vehicle route);

fuel in vehicle regular fuel tanks (independently up to three fuel tanks);
fuel consumption, fueling and fuel drain;
active driver;
active trailer;
engine RPM;
external additional sensors.
1.3 Benefits:
multi tanks monitoring;
driver identification;
trailer identification;
easy fuel sensor connection (one click connection);
large internal memory;
easy installation and easy operation;
any type of vehicle and special machinery application: truck, mining industries, agricultural etc.
2

.

Monitoring Structure

: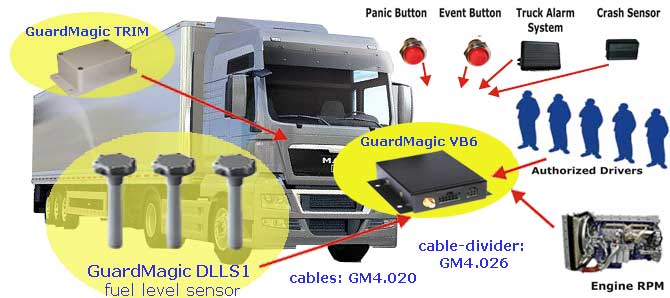 2.1 Main Components

:
(vehicle GPS tracking module)

GuardMagic VB6 module in full automatic mode collect, immediate transmit to monitoring station or store in internal non-volatile memory and posterior transmit to monitoring station information

:

-

vehicle location,

-

parameters of vehicle moving

(date/time, speed, acceleration/deceleration);

- fuel level in fuel tank;

- driver ID code;

- trailer ID code;

- engine RPM;

- panic button pressing;

- sensor status.

GuardMagic FB6 module connected to GuardMagic DLLS1 -fuel level sensors (or sensor with the similar protocol). Support up to THREE fuel level sensors.

GuardMagic DLLS1 fuel level sensor

GuardMagic DLLS1 sensor detects the level of the fuel in the fuel tank, processing data and sends the information about current fuel level in the form of digital code (EIA-485 communication interface) to monitoring module.

GuardMagic DLLS1 is intended for standard and heavy application.

Additional connection cables: for easy (one click) sensor connection to vehicle module GuardMagic VF (VB) and esy sensor serial connection.

Cable GM4.020 - for easy connection fuel sensor to VF2 module.

Cable-divider GM4.026 - for easy connection two fuel level sensors (cable GM4.020) to main module

(trailer identification)

GuardMagic TRIM1, - special module installed in any type of trailer, semi trailer and connected to main module by spiral cable.

When trailer, semi trailer is connected to tractor be spiral cable GuardMagic TRIM1 send to main unit trailer ID by EIA-485 interface.

Communication network (GSM/GPRS + Internet)

Communication channel for the sending information from vehicle module to Monitoring Server (monitoring computer).

Monitoring station

:

-

collect

all information

from vehicle modules, store this

information in data base

,

- analysis received information,

- generate the series of special reports and diagrams

;

-

visualizat

e vehicle location and vehicle trip

electronics maps,

- monitor fuel consumption, fueling and fuel drain.

Monitoring Station

(monitoring service)

consist of

server (or

personal computer

)

and special monitoring software

:

- PowerTrace monitoring service; - VehicleStation; - FleetStation.
2.2 GuardMagic VB6 module advantages

:
transport and special machinery mode;

active "stand by" mode;

sleep mode;

flexible customer module setting;

engine start remote blocking;
vehicle immobilization;

panic signal transmitting;

status of additional sensors transmitting;

power supply 12 /24 volts;
connection to vehicle guard system;
connection to reserve battery;
easy installation, easy operation.
2.3 GuardMagic DLLS1 advantages:
multi tanks supports functionality;
robust construction;
standard and heavy application;
high resolution (1024 or 4096 levels);
isolated power and data line;
operation in wide temperature range;
digital communication interface (EIA-485);
high noise immunity;

internal data filtering (data processing);
sensor serial connection;
self testing;
strong mounting;
oil, fuel, water, UF resistance cable;
IP 65 ingress protection;
power supply: 9 ... 40V;
customer sensor cutting.