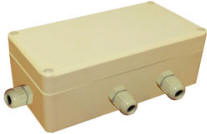 GuardMagic CLS1 is the special device for monitoring the status of cargo tanks hatches (Open/Close) in road fuel tanker monitoring system.
GuardMagic CLS1 connected to hatch sensors, collect information from sensors and transmit information about sensor status and sensor connection line status to main monitoring module by industrial EIA-485 communication
interface.
GuardMagic CLS1
is installed in truck or in trailer and wired connected to main module installed in tractor.
GuardMagic CLS1
also
allows to
check the status of hatch
sensor connection line (connection cable).
GuardMagic TRIM1 allows by very economical way embed trailer monitoring functionality in vehicle monitoring system.
M
ain data:
i

nput power voltage (DC) operation:

communication interface:

qty. of monitored manholes (hatches) :

qty. of connected manholes (hatches) sensors :

operation:

communication model in 485 bus:

communication speed:

serial connection:

addresses in EIA 485 (customer selected):

a

ddress setting (customer):

connection:

cable:

water (mixed detergents/cleaners), oil, fuel, UF resistence

Operation Pressure:

Operation Condition:

Indoor and outdoor (IP57)

Enclosure Material:

Dimension without glands and cables:

Operation Temperature: